Children learn as they play. Most importantly, in play children learn how to learn.
- O. Fred Donaldson
"Creativity takes courage" The school is aware of the fact that each child has some hidden talent, apart from academics which needs to be tapped for this prime reason many activities such as, Debates, Quiz, Maths & Science clubs, Art & Craft, Pottery, Skating, Western and Folk dance, Singing, Aerobics etc. have been included in the curriculum.
Creativity can stimulate imaginative thinking capability in students. That is why teachers promote activities such as open-ended questions.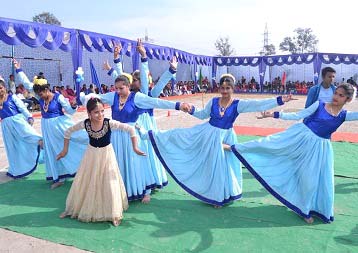 Learning about other cultures is an important part of any child's education. It is possible to take a child on a global journey to discover world cultures. It provides a remarkable threshold to the students to groom themselves in all aspects and present their unique talent.
Sports can help an individual work in team spirit and also develops a problem-solving attitude towards life. Discipline is key to success in sports. Sports keeps the students physically fit, healthy and agile. At a young age winning is not the most important thing.
It Enhances Physical Flexibility: Yoga promotes physical strength because children learn to use all of their muscles in new ways.
One of the most important early foundations for later motor skill development is the infant's awareness towards the steady beat. This awareness, or basic timing, is the foundation on which the child builds future motor coordination.
Phyllis Weikart, Leading authority on rhythmic movement
Children naturally love music! Whether it's soft and soothing or a lively tune, children feel it both physically and emotionally. As children grow in their appreciation of the beauty of music and dance, they acquire a gift that will bring them great pleasure. Music brings another dimension of beauty into our lives. Music and movement benefit a child's development in many ways.
Professionally trained staff introduces music to young children at our school, and they are encouraged to sing, dance and most importantly have fun while experimenting with music.